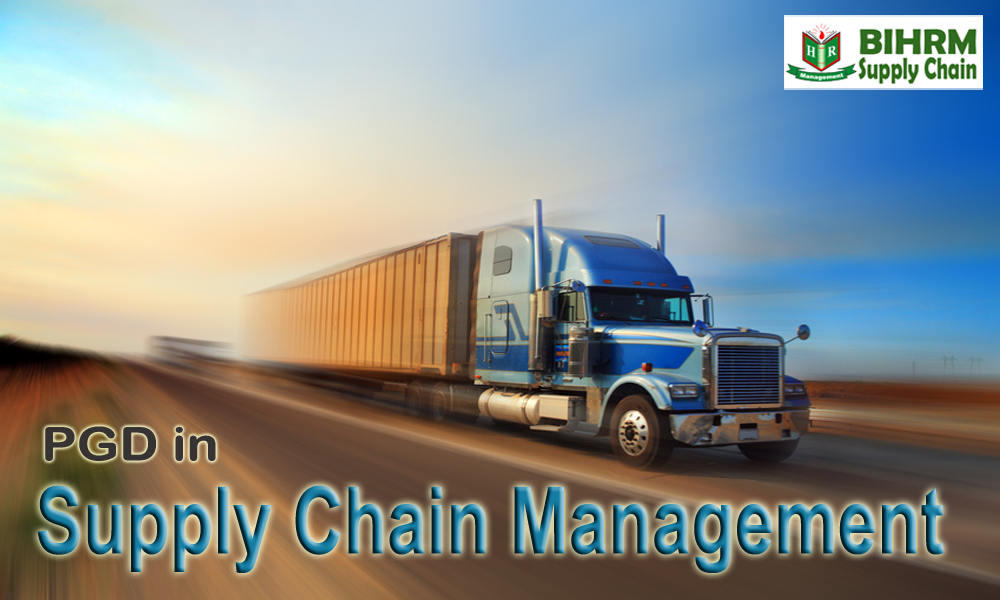 Supply Chain Management is the core business practice that determines true effectiveness of other management activities. An efficient Supply chain Manager holds such a position that deals with Marketing, Human Resources, Finance, Operations, IT and as a whole the regulator of total business actions. PGDSCM Post Graduate Diploma in Supply Chain Management program will be the perfect blend to enhance performance of all these departments.
BIHRMs PGD in Supply Chain Management (PGDSCM) program is concerned with that vital subject of business logistics and supply chain management, an area that can be essential to the competitive strategy and revenue generation of a business. This management area has been described by many names, including physical distribution, materials management, transportation management, Inventory, logistics, Purchasing, Procurement and supply chain management. Other relevant business activities may include : transportation, inventory, order processing, purchasing, warehousing, materials handling, packaging, customer service standards, and production.
Please contact for details:01731822888,01817011406,01911214545
Program Objectives:
The focus of this PGDSCM Post Graduate Diploma in Supply Chain Management is on the planning, organizing, and controlling of these activities key elements for successful management in any organization. Special emphasis is given to strategic planning and decision making as an important parts of the management process. Managerial efforts are directed towards logistics activities to make products and services available to customers at the time and place, to the condition and form desired, in the most profitable and cost effective way. However BIHRM organizes this program in collaboration with different Inventory & Supply chain institutes from India, Singapore, Malaysia, UK and Australia.
Program Scope:
Supply Chain activities have always been vital to organizations. It is the combination of many concepts, principles, and methods from the traditional areas of marketing, production, accounting, purchasing, inventory and transportation, organizational behavior and economics. This Program unifies these elements to assist in the effective management of the supply chain.
Please contact for details:01731822888,01817011406,01911214545
PGDSCM Post Graduate diploma in Supply Chain Program collaborations:
BIHRM is official strategic partner of Institute of Supply Chain Management (IoSCM),UK. The IoSCM entitles BIHRM students as CSCM/ASCM/PSCM etc. Now participants can use the international membership title after name.
BIHRM Supply Chain singed and agreement for Erasmus+ EU Scholarship agreement for BIHRM Supply Chain students. Under this agreement our students and faculty can go to the university in Poland to study/ teach supply chain with scholarship support from Erasmus+. Subsequently, Students and teacher from the 'International University of Logistics & Transport' will come to BIHRM, Dhaka to study and learn and Share supply chain knowledge BIHRM supply chain program.
This is the first time for any Bangladeshi Supply chain program to go such an agreement.
Course Details :
Bangladesh Institute of Human Resource Management(BIHRM) PGD in Supply Chain Management(PGDSCM)| Duration: 6-9 Month, Credits:27
Course materials: All course materials are prepared by BIHRM Faculty/Research associates & will be provided from institute
Course Modules:
1st Semester
Supply Chain Management
Purchasing & Procurement management
HRM for SCM leadership & Commercial Management
2nd Semester:
Logistics & Transportation Management
Production & Operation Mgt.
Inventory & Distribution Mgt.
Final Semester: 
Thesis and Viva
Why choose BIHRM Supply Chain for Supply Chain Management Course 
Established in 2002, BIHRM Supply Chain course has been offering supply chain management courses. We offer different supply chain professional certification courses. We offer 1. Postgraduate diploma in supply chain management-pgdscm, 2. 'Chartered Supply chain Professionals' designation programs  3. Supply chain engineering management    4. Integrated diploma in supply chain logistics management.
BIHRM supply Chain provides best supply chain management courses in Asian region. Our graduates has been working successfully in Government, Military, Private, National, International, Multinational companies at Home and Abroad. BIHRM Supply chain faculties are long experienced in professional field, worked and studied in National and Renowned International institutions.
Services of BIHRM Supply Chain's PGDSCM PGD in Supply Chain Management
BIHRM is autonomous professional institute since 2002, under ministry of commerce, has been offering courses and authorized by govt. to certify professional courses ever since. Accepted and equivalent to PGD course in Canada, Europe since then. Our students get easy equivalence certificate from WES, Toronto, UofT, Canada , EU and all foreign accreditation agencies.
World best course material, syllabus, industry related contents, practical simulation and case study methods makes our programs as best supply chain course in the region and prepare our participants True supply chain professionals which has been helping them for Jobs, promotion or operating a Business. Our procurement and supply chain management, logistics management certificate programs helped thousands of participants to shine their career and placed in pick of their profession.
We offer superior services to our participants in addition to courses. We have Internationally Qualified faculty, Rich syllabus, International Accreditation, Networking Opportunity, Strong Successful Alumni, Learning applicability, Multiple Locations, Highest Hours of Classes, Corporate Presence, Year Long Activity, Bangladesh's only Supply chain Convention Organizer, Bangladesh' only Supply Chain Research Activity, Publish Supply Chain Management Research Journal Supply Chain Insider,  Job Opportunity creation, Physical Class at Multiple locations offering as Bangladesh only institute, One of the Oldest professional award winning institute since 2002.
Please contact for details:01731822888,01817011406,01911214545
Sharfuddin Lisan
BBA, MBA in Supply Chain(Canada), PGDSCM, CSCP(Canada)
SCEM(Poland-Germany),DSC(BIM),MHRM(DU)
Worked in Hilton (Canada), Irving Oil (Canada), Celcom(Malaysia) and national-multinational organizations.
Program Director, Supply chain-PGDSCM
BIHRM Supply Chain
lisan.bihrm@gmail.com


Express Entry to "Chartered Supply Chain Professionals" designation


Erasmus+ EU Scholarship agreement for BIHRM Supply Chain students with IULT