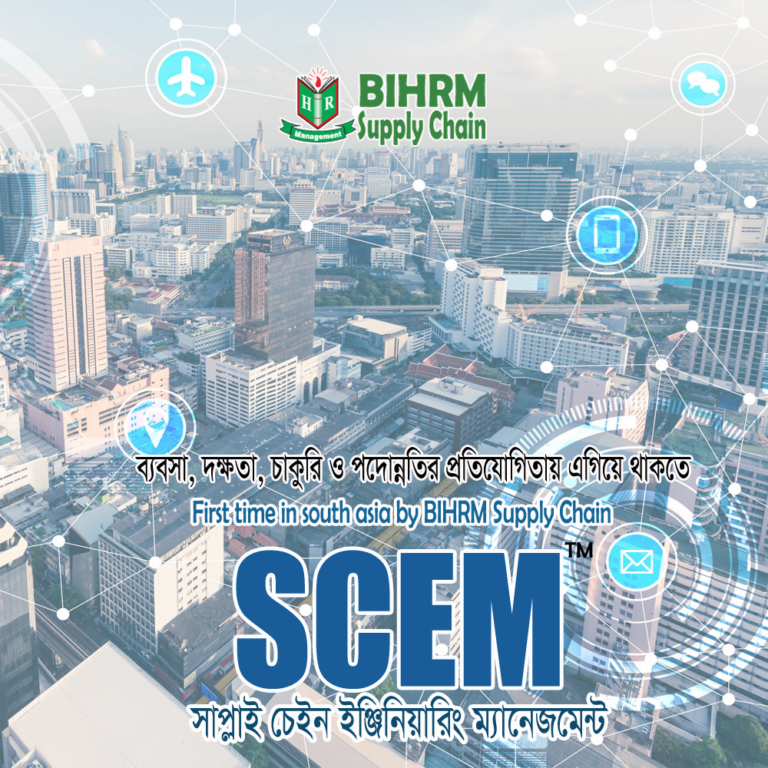 Supply chain engineering management- SCEM
Professional Diploma/PGD in Supply Chain Engineering Management (SCEM)
Are you a curious person?  That's good! It's good because the world needs people  who are intrigued by complex supply  chain  networks  – people  who want to become the  Managers  and Entrepreneur  of Globalization.
Understanding your supply chain, suppliers and supply chain  risks is critical  since  their  performance has  a direct  impact on a corporation's ability to produce or deliver goods or services.  The ability to manage global supply chains is therefore fundamental to success in the  global economy. This is why all kinds of industries look for highly trained professionals who know how to operate complex networks  on a global scale.
The Professional Diploma  in Supply  Chain  Engineering Management (SCEM) provides  you with every- thing  you need  to start  a successful career  in the  fascinating field of international supply chain  management. You will learn how to initiate, design, maintain, and restructure business processes, gain a deep  understanding of market  dynamics, and  acquire modern leadership skills.  You will also explore the relationships that create value for stakeholders across various functions, organizations, and  cultures.
The Era of Supply Chain: The worldwide exchange of goods, the mobility of the people and constant flow of information and ideas requires expertise about transport chains and how exchange process work, what design options are available and the ability to develop new methods to meet future challenges. The primary goal of supply chain management (SCM) is to achieve constant gains in competitive advantage and to organize the entire chain from strategy to implementation in the best possible way
SCEM for Current and Future Business challenges: Future business world is challenging. It is becoming more complex. To understand, tackle, combat and convert the challenges to opportunities both management and engineering tools are needed. Therefore the program will satisfy the industry demand through a holistic education approach through interdisciplinary and practical knowledge that prepares students for the complex logistics challenges. So forth, the course study integrates business and engineering approaches. It focuses on a company's internal organization and the alignment of SCM according to the company's operational strategy. Also it takes into account external company structures and explores supplier relationships as well as the management of relevant company networks.
Taking into account all these business needs, BIHRM Supply Chain brings first time in Asia, 'Supply Chain Engineering Management (SCEM)'.
The program will enhance and amplify supply chain decision making skills, analyzing skills, interpretation skills, Problem solving skills, Trouble shooting skills. Also this program will sharpen logical thinking ability, organizing thought, Communication, leadership and learnability.
An important distinction, however, between Supply Chain Engineering (SCEM) and Supply Chain Management (SCM) is the emphasis in SCEM on the design of the supply chain network and the use of mathematical models and methods to determine the optimal strategies for managing the supply chain. 
SCEM focuses on 'Supply chain planning' and SCM focuses on 'Supply Chain operations'.              
Aims of the course:
The Supply chain Engineering Management program aims to provide an in depth understanding of the essential aspects in designing, maintaining and analyzing supply chains as well as teach the skills necessary to apply methods and tools to successfully and responsibly work in supply chain networks. Understand the strategic importance of supply chain engineering management in a global market
Understanding supply chain and its stakeholders
Have strong analytical skills and understand both qualitative and quantitative methods of decision making.
Apply relevant methods to manage logistics process and network relationships.
Identify risks and opportunities in global supply networks.
Efficiently identify challenges opportunities and design adaptive supply chain management system.
PROGRAM FEATURES
The 6-9 month program, 27 credit hours, teaches the  advanced concepts and  tools of supply  chain  engineering and management. Providing  a balanced combination of theory-based knowledge  and  practical skills, the  curriculum focuses on actual real-world  challenges through excursions, factory visits,  work- shops, and  on-site  placements/internships Also this course focuses on Practical Big data use in supply chain using programming languages and modern software's. Thus participants can develop customized supply chain model for each scenario and organizations. 
Modules:
Supply Chain System Optimization
International Procurement Management
Supply Chain Network planning
Production and Inventory Planning
Six Sigma: Define, Measure & Lean Management
Demand Planning Management
Data Analytics and Management
Six Sigma: Analyze, Improve, Control
Demand Forecasting and Analytics
Data Science and Machine Learning
–  Business Report & Viva
Compulsory for Undergrads:
Duration:
6-9 month for Post Grads
12 months for Undergrads
CERTIFICATION:
The certification will be provided by BIHRM supply chain Jointly under BIHRM Foundation. BIHRM is a premier professional institute in South Asia since 2003.  Supply chain engineering management certification is also endorsed by different professional body form UK and USA.
CAREER OPTIONS
Supply  Chain  Management is a growing profession and  in high demand throughout the  world. The Professional Diploma program  in Supply  Chain  Engineering and  Management prepares you to be a decision maker  in an interconnected business world or simply:  a true  Globalization Manager!  Therefore, SCEM opens  the  door for you to a wide range  of careers in supply chain analysis, designing, supply planning, performance analysis and development . With its special focus  on management, the  degree  in Supply  Chain Engineering and  Management helps  you to directly  enter  the  business world. As a result, you can  find SCEM students proudly working in areas  such  as automobile manufacturing, aerospace, transportation, retail,  purchasing, wholesale, consulting, and  information technology.
It is said that many jobs of 21st century will be taken by machines and AI. The knowledge of SCEM will differentiate an SCM professional to such a higher level that AI and Machine will be operated by SCEM professionals, their algorithm and designs.
Don't miss your chance to grab one of the "top jobs of the 21st century"!
HOW TO APPLY
If you wish to enter  the  Supply  Chain Engineering and  Management program  you should  have a HSC/BA/BBA/BSc/Degree  or equivalent (minimum three  years of study).  Your application needs to include the  following documents:
. 2 PP size photo
. Curriculum vitae (CV)
.  degree  certificate or equivalent (may be handed in later)
. NID  Copy
TUITION
Please contact us for details.
SCHOLARSHIPS
 BIHRM offers a special scholarship program for HSC/graduate students. Several time of the year there will be Online exam, bases on the performance of that participants will be awarded partial/significant amount of scholarship.
Please contact for details:01731822888,01713-680709,01817011406,01911214545
Sharfuddin Lisan
BBA, MBA in Supply Chain(Canada), CSCP(Cananda) PGDSCM(Malaysia),
SCEM (Poland and Germany) MHRM(DU)
Coordinator, Supply chain

lisan.bihrm@gmail.com