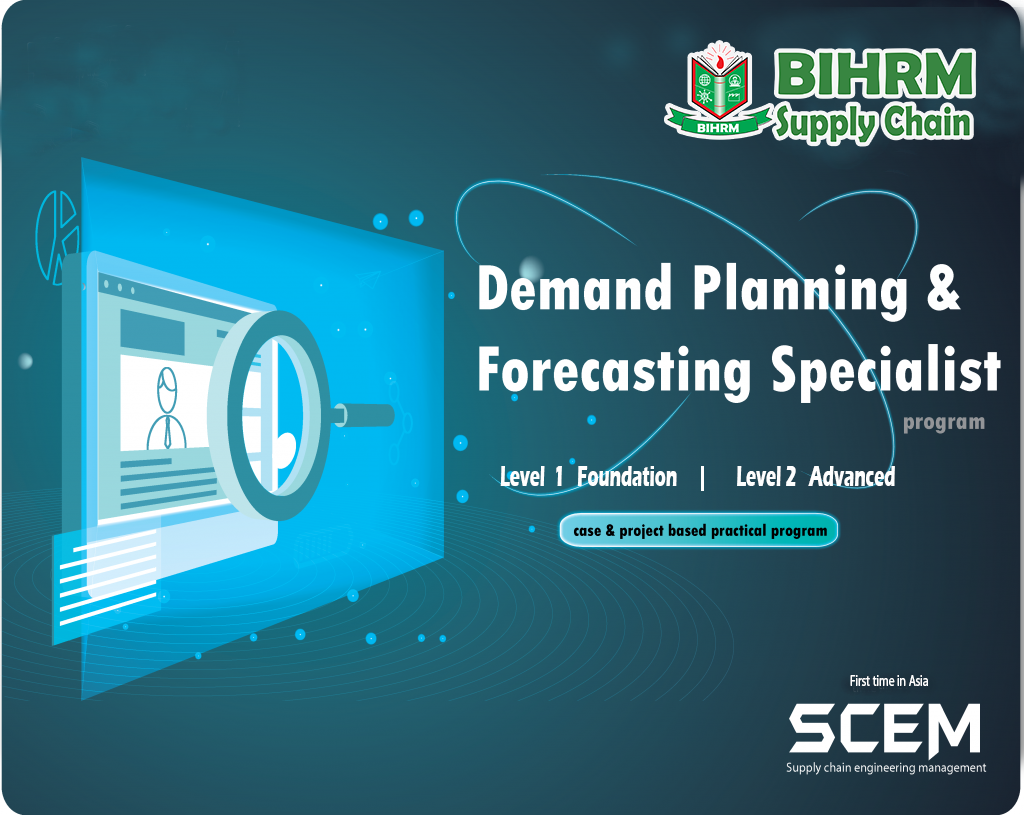 Demand planning and forecasting as an integral part of their growth strategy. At the same time, they find forecast accuracy a cause for concern.
BIHRM Supply Chain launches a unique Certificate program in Demand Planning and Forecasting. DPFS will be a distance education course with classroom assistance provided to those who want it.
DPFS is developed to provide participants with a solid understanding of the important techniques and components associated with integrated Demand Planning, Forecasting, MRP, SnOP and CPFR. The course will cover core techniques, tools, and best practices. The program is beneficial to individuals with broad planning responsibilities as well as individuals with more focused areas of concern.
Learning Objectives
The DPFS will differentiate you from your peers and provide you the ability to navigate through both the technical and analytical aspects of the profession. With DPFS, you will:
To understand how the demand planning process should function
How to develop an effective and realistic baseline forecast that drives better planning
How to deal with different kinds of uncertainty while planning and forecasting.
Understanding variability and performance of the Forecast – Measuring Bias and Error.
Understanding Implied Volatility and its Implications for Supply Chain Planning
Understanding Analytics, Technology and Demand Planning
Shifting Global Trade patterns and Challenges for Demand Planners
Understanding S&OP Process
Role of IBP in an organization
Who Should Participate
DPFS is beneficial for:
♦ New Demand Planners and forecasters ♦ Experienced Demand Planers looking to upgrade their skills ♦ Those who wish to shift into a demand planning role ♦ Head of Sales ♦ Product Managers  ♦ Marketing Managers ♦ Corporate Planners ♦ Market Researchers  ♦ Analytics Professionals
Certificate Requirements
Certificates must be completed within 6 months of registration. To obtain the DPFS certification you should either:
Successfully complete a Two-month course on Demand Planning and Sales Forecasting currently offered as an in-person/online workshop, and clear the exam at the end of the session.
You will have to submit all assignments on time and complete all readings to be eligible for the certificate.
Program Structure
The DPFS course covers the following core modules:
Introduction to Demand Planning & Forecasting
Forecasting Models and Techniques
Measuring Forecast Performance
Managing Forecasts: Different Approaches
Integrating external factors into the forecast
Sales and Operations Planning
Framework for MRP,DRP
Integrated Business Planning
Course Material
BIHRM Supply Chain will provide comprehensive reading material for each module. In addition, for distance education candidates, BIHRM Supply Chain will offer e-mail and skype based mentoring.
Eligibility – Diploma/ Graduates with three years' work experience in Demand Planning and forecasting.
Evaluation and Certification
DPFS follows a continuous assessment process which includes MCQ, case analysis, assignments and numerical problems. These reflect the realities of the business environment. Candidates have to complete the case analysis, assignments, and worksheets and send it to BIHRM Supply Chain as a part of their evaluation.