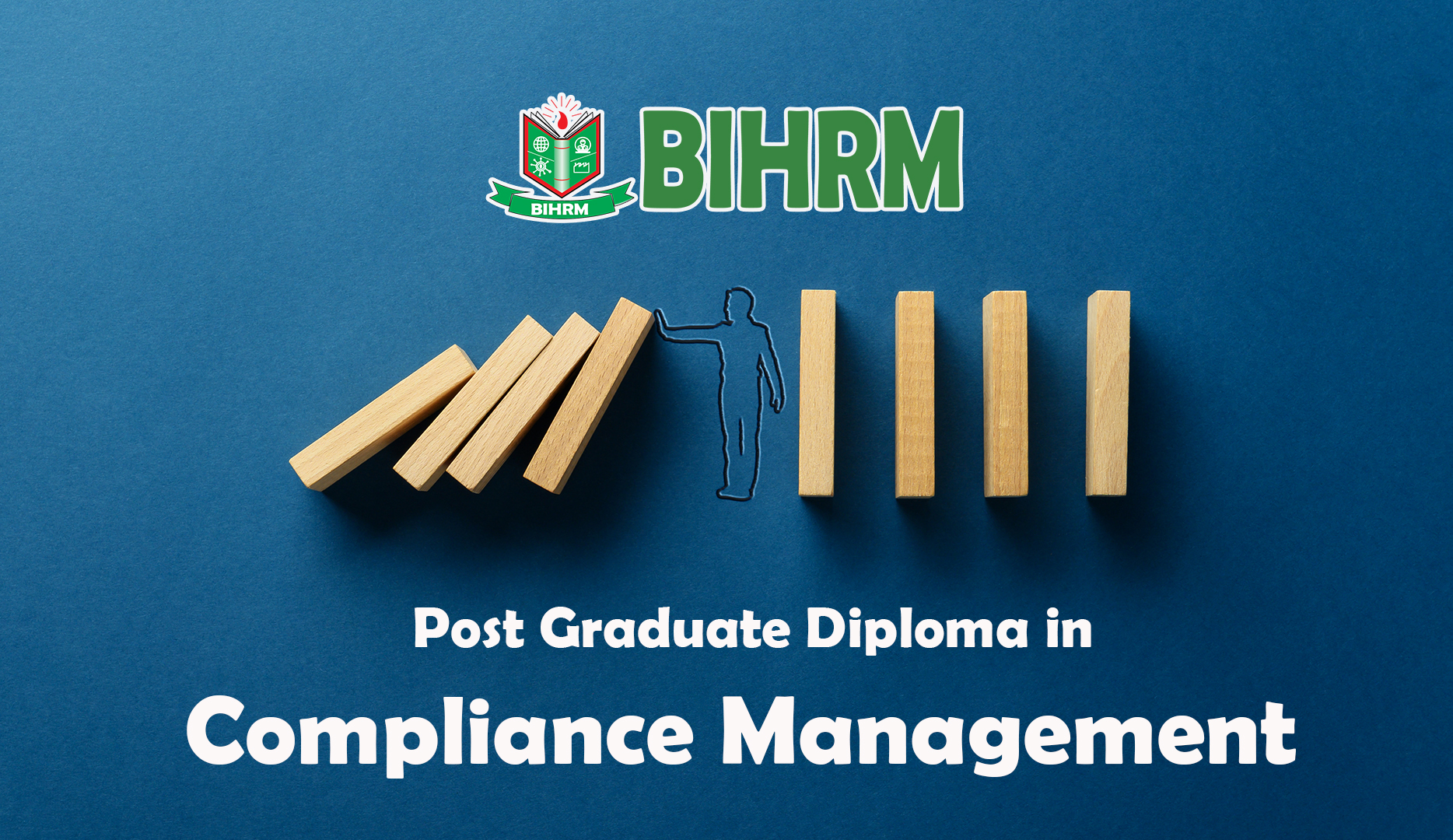 Now a days social compliance become serious issue for any organization. It refers to how a company protects the health and safety as well as the rights of its employees. Needless to say it has a close connection with labour law and international code of conducts
First Time in South Asia BIHRM is Offering this time befitting course. As the pioneer of HR/Management in Bangladesh BIHRM offers this to increase management skills. Post Graduate Diploma in Compliance Management (PGDCM) can prepare apprentices for taking up as new act of HR Management. It is also ideal for those who would like to develop and hone their skills within an existing compliance management role.
It provides detailed learning on a range of relevant compliance management/Socila Compliance topics, combining theoretical background with the practical tools, compliance management techniques and compliance communication formats needed for everyday compliance managers.
The course designed within the context & changes in the world specially Bangladesh, UK, EU, US and global economy, and will be of particular interest to those needing to practice compliance management skills on a day-to-day basis.
PGD in Compliance Management of BIHRM is organized by collaborations with "Highfield awarding body for compliance, uk", & "The Institute of Management Specialists, uk" . Certificate will be awarded from BIHRM.
Throughout, the student is encouraged to use the ideas both in the context of their own experience and through case studies.
Course Details Of PGD in compliance management from BIHRM:
Duration: 6 months,2 semesters, Credit Hour:27
Classes held on weekly holidays.
1. Social Compliance Worldwide
2. Human Resource Management
3. Labor welfare Safety & Security
4. Labor and Industrial Law
5. International Compliance Requirements
6. Management System standards & Compliance Audit
Final Semester: Thesis and Viva
Description
The diploma course in Compliance is designed to suit the requirements of social compliance officer/ manager, human resource and welfare officers/managers and all those who wish to build a career in a profession which demands in-depth knowledge on social compliance issues. The course has a focus on compliance needs of the export sector industries, and a strong practical orientation. Activities go through apart from class room, participants have to an internship program during which they will learn how to conduct a factory compliance audit and implement measures to correct non-compliances. At the end they have to submit a social and environmental audit report on initial findings, recommendations and progress achieved.
The Program Includes ISO 9000, ISO 14000, BSCI, WRAP, SA8000, SEDEX, Hig Index, OHSMS, OHSAS, GOTS, OCS,GRS, GSV, Compliance Audit, Health and Safety, Environmental safety and Many other Contemporary Compliances Requirements.
Objective
The course aims to equip participants with knowledge and skills needed to:
 identify and solve compliance-related problems in the workplace
 Conduct factory audits and write audit reports.
 Build expertise in relevant area.
 Build career as a compliance and HR/ Admin Manager for Garment and other export oriented industries.